I got standing tickets on Thursday for the Foo Fighters on 7th June wooohooooo, so excited its going to be an awesome show at Wembley stadium. Also seeing Queens of Stone Age next year as well, in Belfast, so its already looking like a good year for gigs.
Why does the last day of work before going on holidays always seem to last an eternity???? I've been feeling so tired lately that last night nearly finished me off, seemed like the clock was never going to make it to 8am. Thankfully I am off now for another week now which means I'll only have worked like 4 days in a month which is awesome LOL Going over to Brighton to see friends and family for a few days and catching a Bill Bailey show while we are there which should be cool.
Current Mood:

groggy

Current Music:

Breaking Benjamin - Breath


Hawaii was even better and the shark cage wasn't as scary as I thought it might be. Also got to go in a submarine, take a sunset dinner cruise, spend a day at the sea-life park swimming with dolphins, stingrays and sea turtles. Last day in Hawaii we had a movie tour and seen places where they film Lost and films such as Jurassic Park, Godzilla etc then we finished holiday with a Luau which was a great night. Full write up to come with pics when I recover from the 17hours in the plane on the way back and develop the pictures on the underwater cameras LOL

Wedding recption/party last Friday went well too, got most gifts on the list and almost £1000 which was cool and the live band were good. In other news Foo's coming to wembley in June so I gotta get my tickets on Thursday WOOHOO :D
Well I've been back since last wednesday just haven't bothered posting anything yet, had a lazy week :D Las Vegas was awesome, first thing we did was to get picked up in limo and took helicopter ride to the Grand Canyon and got to land at bottom for a champagne picnic, the views were breathtaking. Also seen a magician I like while we were there, Lance Burton, seen American Superstars a tribute singer show and oh yeh got married too. That was short and sweet but was a lovely little place.
Current Mood:

tired

Current Music:

Led Zeppelin - Immigrant Song
This month has seemed to go so quickly, I've been really tired all month and I can't blame work as I had a week off and it's not like my job is very taxing anyway. Think I've had a cold or flu, at least I had it now so I'm not unwell on holiday. Gone so quickly there is only a week to halloween, oooooohhhhh spooky! Clare made Callum an awesome Optimus Prime costume for fancy dress day at school on friday, Callum and I helped do some painting but it was the genius who thought up how to put it all together. I was going to ask her to make me one too but I don't think we have that many boxes LOL
Optimus Callum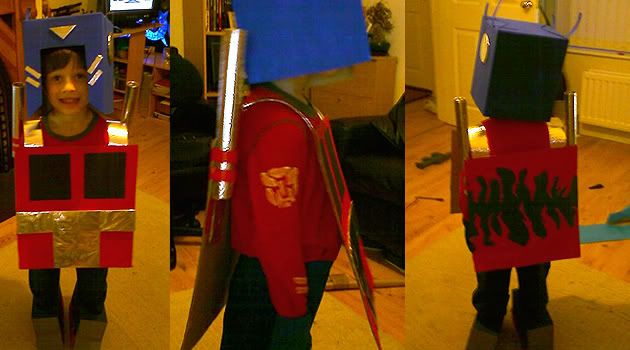 I can't believe its less than 2 weeks until I go holiday, where has the time gone??? I'm so excited about going to Las Vegas and Hawaii, and what makes it even better is that Clare and I have already booked all of our excursions so we know exactly what we'll be doing while we are there - helicopter ride to the floor of the Grand Canyon, going underwater in a cage being ravaged by sharks, swimming with dolphins, going underwater on a submarine, and two cruises to name but a few things! Oh and getting married, I nearly forgot about that one! LOL
Current Mood:

again

Current Music:

Foo Fighters - All My Life
What a strange night I had on Sunday!! I got dragged along to a Grease theme night at Mynt club in Belfast which had 90's *cough* "star"
Current Mood:

cheerful

Current Music:

Kavana - Romosexual (Not really lol)





Roll on 2008 till the Foo's can ROCK me in person :p
I'm just loving this song and video right now :)
Current Mood:

weird

Current Music:

Foo Fighters - Let It Die
http://www.careercruising.com/
.
2. Put in Username: nycareers, Password: landmark.
3. Take their "Career Matchmaker" questions.
4. Post the top ten results.
1. Astronaut
2. Electrical Engineer
3. Astronomer
4. Physicist
5. Pilot
6. Helicopter Pilot
7. Engineering Tech
8. Aerospace Engineer
9. Mechanical Engineer
10. Mechanical Engineering Tech
That's very accurate as I've always dreamed of being an astronaut but as thats not very realistic I'm doing a degree currently in Electrical Engineering :)
1. Go to
Current Music:

X-Files - Theme tune
Current Mood:

pleased

Tennents Vital was fucking awesome this year!! Was held in Ormeau Park Belfast and the line-up was Albert Hammond Jr, The Shins, Mark Ronson, Kasabian and The Killers. Only really went to see the Killers but the other bands weren't bad, Mark Ronson was better than expected and Kasabian were good. Just before Mark Ronson came on I noticed the crowd were all starting to move forward from sitting on the grass and drinking at the bar so me and my bro Anthony quickly made our way from the bar right to the front barrier just before the crowd gathered. My friends who were with us were still getting drinks and came 5mins later and they ended up miles away lost somewhere in the thousands of people. The Killers were brilliant and the atmosphere in the crowd at the front was great, everyone was jumping and singing. I got a pint of beer and water spilled on me as all the drunks pushed their way through but was all part of the fun, didn't mind as it was one of the hottest days of the year and felt twice as hot in the middle of so many people. I took some videos and pictures which can be found ( hereCollapse )
Current Mood:

high

Current Music:

The Killers - Bling